5G steals the limelight at the India Mobile Congress 2018
IMC 2018 began on a grand scale at Aero City, New Delhi, with over 300 companies fromover 20 countries from the Asia-Pacific regionparticipating in this prestigious event. Shri Manoj Sinha, Minister of State (Independent Charge) for Communications and Minister of State for Railways, accompanied by Shri Ravi Shankar Prasad, Hon'ble Minister of Electronics and Information Technology and Law & Justice; Shri Suresh Prabhu, Hon'ble Minister of Commerce & Industry and Civil Aviation; Shri Hardeep Singh Puri, Hon'ble Minister of State (Independent Charge) for Housing & Urban Affairs; Smt. Aruna Sundararajan, Secretary (T) & Chairperson, Telecom Commission; ministers and dignitaries from Cambodia, European Union, Lao-PDR, Myanmar, Mauritius, Nepal, and South Africa, inaugurated and participated in this second edition of the epoch-marking event. Dr Youngky Kim, President & Head of Samsung Networks; Vivek Badrinath, Regional CEO, Africa Middle East Asia-Pacific, Vodafone Group; Sunil Bharti Mittal, Founder & Chairman, Bharti Enterprises; Mukesh Ambani, Chairman, Reliance Industries and Kumar Mangalam Birla, Chairman, Aditya Birla Group were the other luminaries from the telecom industry who were present at the event.
IMC began in 2017 to build a collaboration platform for technologies and services in next- generation mobile communications. The inauguration ceremony has been attended by over 5,000 people from 10 partner countries, which included policy-makers, ambassadors, opinion makers, change agents, bureaucrats and investors.
Hon'ble State Communications Minister Manoj Sinha announced that the Indian telecom industry will roll out one million Wi-Fi hotspots in the country by December 2019, which is another step towards digital empowerment of the nation. Bharat Wi-Fi, a countrywide common interoperable platform of one million Wi-Fi Hotspots, owned and operated by Telecom Service Providers, Internet Service Providers and Virtual Network Operators will be rolled out across the country. This initiative allows consumers to access Wi-Fi hotspots of any of the partnering operators.
The National Frequency Allocation Plan 2018 (NFAP) has been unveiled during the inauguration presenting a pioneering roadmap for the Indian digital communications industry. The NFAP has released a quantum of 605 MHz licence exempt spectrum in 5GHz band for Wireless Access Services and Radio Local Area Networks in outdoor, to meet the ever-growing appetite for data (from a current figure of 50 MHz since 2007). The NFAP has also offered over 30 licence-exempt bands for Short Range Devices (SRDs), Ultra-Wideband Devices (UWDs) and additional spectrum for M2M services, creating opportunities for the public to enjoy benefits from technologies and enabling the industry to build domestic manufacturing ecosystem. India has signalled its spectrum plans for 5G services aspiring to adopt the next-generation technology as a leading market.
In a major policy initiative, which will give impetus to small and medium entrepreneurship in the telecom sector, DoT decided to deduct payments for resources taken by Virtual Network Operators (VNOs) from telecom service providers, thereby reducing levies payable by VNOs. This avoids double taxation at various stages.
A concrete plan is in the making by the DoT to enable home-grown technologies for trials in the field on a large scale to enable the development and the scaling up of the products and services.
The day 1 witnessed many rousing announcements by the industry and demos of the state-of-the-art 5G applications by global OEMs. Investments of approximately over Rs.2, 000 crore and over 3 lakh jobs are expected to be created.
The telecom industry will install one million Wi-Fi hotspots in the next 12 months. Interoperability across different Wi-Fi networks will enable smooth experience for subscribers, as he or she will be able to use the data plan taken from any TSP for all the Wi-Fi hotspots deployed across India. Besides offering consumer delight, this industry initiative will create additional 3 lakh jobs.
Day 2 of IMC
2nd day of IMC 2018 started on a high note with the Global CEOs Conclave, which included plenary sessions on subjects such as Networks of Tomorrow, Emerging Technologies, Power of Content, Open Source Technologies etc. Who's who of the global technology arena came together to deliberate on the future of technology and how it will bring about paradigm shifts in the way we go about our day to day lives.
The conversational sessions were attended by global speakers like Durga Malladi, Senior Vice President, Engineering, Qualcomm; Sanjay Kaul, President, Asia Pacific and Japan, Service Provider Business, Cisco; Dr. Jay Kim, VP, Samsung Electronics;Jay Chen, CEO, Huawei India; Dr. Anand Agarwal, Group CEO and Whole-time Director, Sterlite Technologies Limited;and Nunzio Mirtillo, Senior Vice President &Head of Market Area, South East Asia, Oceania & India, Ericsson. The session was moderated by Balesh Sharma, CEO, Vodafone India Limited. They talked about how 5G would be the key drivers for new technologies and innovations. 5G is not just about speed but more about adaptability and flexibility. 5G will enable us to connect many new devices and this will be supported by AI. The next generation networks will be very complex for humans to handle and therefore AI and machines will be needed to manage.
Panelists included Pardeep Kohli, President and CEO, Mavenir; Jim Jefferies, President and CEO, IEEE; Phil Twist, VP, Networks Marketing and Communications, Nokia;NivrutiRai, VP, Data Center Group, Country Head, Intel India; and Jimmy Mizrahi, GM Global Portfolio, ECI Telecom.
"Power of Content" was the session which focused on how technology is driving exponential data creation and consumption and how content delivery is going to be paramount in the future. The speakers highlighted the growth in user generated content, even from Tier 2 & 3 cities, where the content is both produced and consumed by consumers themselves.
The panelists for the session included Matteo Maga, Managing Director, CMT, Accenture; Hiren Gada, CEO, Shemaroo Entertainment Limited and Sameer Batra, CEO, Wynk.
IEEE-TSDSI 5G Technology and Standards Workshop
The IEEE-TSDSI 5G workshop brought together technology experts and stakeholders from the Government, Industry, Research and Development Organizations, Academia to discuss emerging trends in 5G technologies, the opportunities and challenges that these pose for a broad spectrum of verticals including tactical and first responder missions, and infrastructure and ecosystem preparedness. The workshop is expected to serve as a catalyst to help define various use cases, drive standards, and investigate deployment issues suitable for 5G networks.
Jim Jefferies, President, IEEE mentioned, "Given the complexity of 5G technology, a successful implementation of this technology would require deep expertise ranging from semiconductor physics, Massive MIMO, Software Defined Networks, Shared Spectrum Access, Wireless Backhaul, Security and Applications to name a few."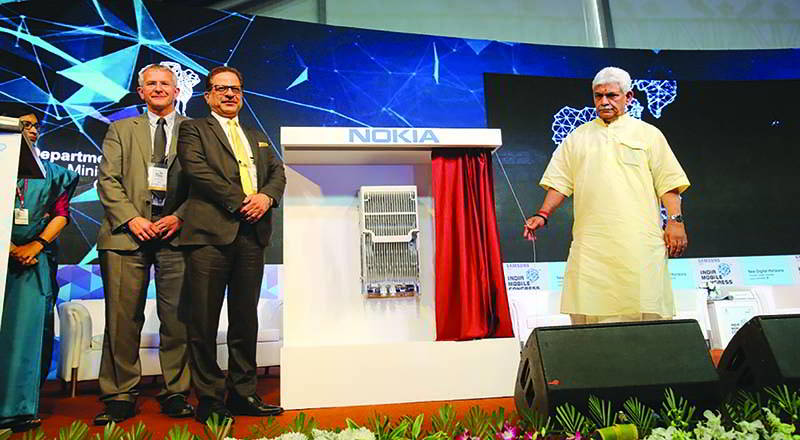 Jim further added, "IEEE through its research and technical depth across its societies and through the IEEE Future Networks along with strong expertise in standards development through IEEE Standards Association will play a key role in driving this next generation technology globally. IEEE is also focusing on the region specific use cases and applications, including specific requirements for success of 5G deployments in India."
Attendees learnt about and discussed emerging trends in 5G technologies, and the opportunities and challenges that these pose for a broad spectrum of verticals including tactical and first responder missions, and infrastructure and ecosystem preparedness. Ultimately, this workshop will serve as a catalyst to help define various use cases, drive standards and investigate deployment issues suitable for 5G networks.
Innovation sessions
Similarly, there were sessions on pro-innovation regulation and privacy, The Emerging World of Analytics, Artificial Intelligence, E-tail – The need of the Future, HealthTech – Age of Cyborgs, Industry 4.0: Building Factories of the Future, M-Education, Value Creation through Digital Marketing, Future of Enterprise, Aadhaar etc.
Other sessions of Day 2 included discussions around The Emerging World of Analytics: Creating Business Solutions, HealthTech – Age of Cyborgs, Value Creation through Digital Marketing, Artificial Intelligence: Innovation, Investments, Ethics and Responsibilities, Industry 4:0: Building Factories of the Future, Future of Enterprise – Serving the Millennials, Next Generation Devices. Panelists for these sessions included Sandeep Bhushan, Director and Head Global Marketing Solutions, Facebook; Dr. Praveen Chandra, Chairman of Interventional Cardiology, Medanta, Gurgaon; Sumili Chatterjee, VP and Head Brand, BCCL; Santanu Bhattacharya, Chief Data Scientist, Bharti Airtel Limited among others.
The 2nd day of IMC concluded with the IMC Digital Communications awards. UTStarcom was the award partner for the IMC Digital Communications Awards.
The awards were given to the companies, for their exemplary contribution to the sector. The highlight of the night was Indus Towers who won the IMC Digital Communications award for "Best Green Technology Adoption for Telecom Networks". This was part of total five IMC Digital Communications award categories. Other winners included Huawei Communications India for "Innovative Network Solution of the Year for Connectivity"; Hotstar for the "Best OTT Content Platform"; State of Jharkhand for the "State with the Best Digital Infra Policies" and Surat Smart City for "Smart Cities Project with Most Innovative Technology Adoption". All the winners were felicitated by the Shri Manoj Sinha, Hon'ble Minister of State (Independent Charge) for Communications and Minister of State for Railways.
As part of this year's award ceremony, three winners of the 9th Aegis Graham Bell awards, in the Telecom and Mobile categories, were also felicitated at this year's IMC. The winners included Mahindra Comviva for "Innovative Telecom Product or Solutions"; eKincare for "Innovative Mobile App for Enterprise"; and Accenture for "Bringing the fortune to the bottom of the pyramid" category.
Day 3 of IMC
IMC 2018 ended with participants and organisers promising to be back next year. Addressing members of the press and media on the last day of IMC 2018, Minister of State (Independent Charge) for Communications, Shri Manoj Sinha said, "Having participated in the World Mobile Congress in Barcelona earlier this year, I can assure you that IMC 2018 was no less – in terms of substance, scale, and style. The IMC is just a two-year old baby, and it has already acquired a personality of its' own. It will now be an important annual event on everyone's calendar."
An extremely relevant addition at this edition of the IMC was the presence of high-level ministerial delegations from several BIMSTEC and ASEAN countries. Hon'ble Ministers from the European Commission, Cambodia, Myanmar, Nepal, and Lao PDR led their respective delegations, and participated in plenary sessions which were focused on the specific needs, challenges, and opportunities applicable to member countries of these regional forums. The presence of the high-level delegations also offered them an opportunity for bilateral meetings with their Indian counterparts, where topics of mutual interest were discussed, and possibilities of strengthening cooperation were explored.
This year's event, with its' theme of "New Digital Horizons – Connect. Create. Innovate." established the IMC as a regular platform for global and local stakeholders in the sector to collaborate in the cause of exploring opportunities and leveraging possibilities, with specific focus on South and South-East Asia.The Programme is being jointly organized by the Ministry of Communications (Department of Telecommunications) and CoAI.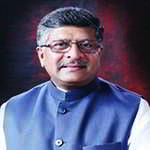 Shri Ravi Shankar Prasad
Hon'ble Minister of Electronics and Information Technology and Law & Justice
"Mobile technology is transforming India. In a country with a population of 1.3 billion, smartphone penetration has been 450 million and internet penetration has been 500 million. We have 250 million social media users and 177 million ecommerce users in the country. The biggest asset of India's transformation is today an ordinary Indian is having a smartphone in his hand. I would like to thank all the telecom companies for doing a commendable job in making this happen and contributing to the success of the Digital India story."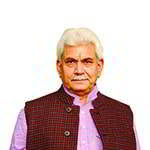 Shri Manoj Sinha
Minister of State (Independent Charge) for Communications and Minister of State for Railways
"The Government would leave no stone unturned in extending its support to India's ICT and TMT sectors. The country is at the cusp of a digital revolution, with disruptions happening in each and every sector and industry. With growing smartphone and internet penetration and with the finalization of National Digital Communication Policy 2018, these are exciting times for the telecom sector, and the society. We are elated to have the support of the Ministry of Electronics and Information Technology and Skill Development and Entrepreneurship to such enthusiastic participation from who's who of the industry."
Shri Hardeep Singh Puri
Hon'ble Minister of State (Independent Charge) for Housing & Urban Affairs
"Whatever initiatives we are taking up in order to build the new India, it all requires technology. And I must say, the whole list of actions that are required to be taken, one area is the location of towers. This is a challenge we have confronted ever since there has been an exponential growth in the telecom sector. We have received frequent complaints from citizens regarding placement of these towers around their premises which is a hazard to health. We are looking at a permanent solution that will be a win-win for both the service providers and the consumers."
Smt. Aruna Sundararajan
Secretary (T) & Chairperson, Telecom Commission
"India has moved into a new digital era. IMC comes forward in a joint commitment with the telecom industry to build a better future. India's relation with the ASEAN and the BIMSTEC countries extends back to several thousands of years. The maritime routes with many of these countries are present even today. Today these linkages extend to the digital domain as well. India is working closely with these countries to develop digital villages which would provide connectivity and access to services such as telemedicine, education, e-Governance and e-commerce."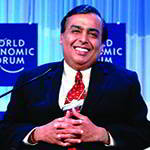 Mukesh Ambani
Chairman – Reliance Industries
"India is among the fastest growing large economies in the world. This has happened due to a combination of force-multiplying factors. Most notable among these is the visionary leadership of our PM Shri Narendra Modiji. During the past five years, he has galvanized India. He has launched more number of transformative initiatives… than in a comparable period anywhere in the world. An equally important factor is the contribution of Indian entrepreneurs, especially those in the telecom, IT and digital space. India has moved from 155th rank in mobile broadband penetration to being the number 1 nation in mobile data consumption in the world."
Sunil Bharti Mittal
Founder & Chairman, Bharti Enterprises
"A lot has happened in the country in the last one year as India braces the digital revolution. India today stands among the top countries across the globe in terms of adopting the latest technologies. The current telecom industry structure of three large private operators and a government-owned operator is the "right structure", even though many operators had to go through significant amount of pain and job losses with nearly $50 billion being written off to achieve this. The National Digital Communications Policy will however capture critical issues like doing away with dual taxation, accelerating mergers and acquisitions and reducing litigation."
Kumar Mangalam Birla
Chairman – Aditya Birla Group
"The merger of Vodafone Idea has been envisaged to create a strong identity that will participate in the next phase of Indian telecom revolution by building world-class broadband infrastructure. Vodafone Idea has made huge commitments to set up the voice and data backbone of the country with an existing gross block of $40 billion. Our immediate focus of the merger is to consolidate these networks into one strong global scale network, not only to handle current traffic but also to prepare for the future."