Nippon Paint's nshakti training program empowering rural women
Nippon Paint (India) has recently announced the successful completion of the first batch of its training program 'nshakti'. Leading architects Ponni Concessao and Oscar Concessao attended the event in Sirudhamur village to hand over the certificates, and expressed their solidarity towards this initiative.
Nippon Paint's nshakti training program is an initiative to train rural women in professional wall painting. Its sole objective is to make rural women employable and transform their lives positively. The first batch of womentrainees (13 totally) between the ages 18 to 35 were trained by expert trainers from Nippon Paint's PROceed training academy to qualify themselves to become professional wall painters.
The initiative which began on the April 9th wrapped up after two weeks of rigorous training conducted by experts from Nippon Paint's PROceed training academy. Nippon Paint's PROceed training academies located in Chennai, Madurai and Salem, have already been instrumental in training close to 900 underprivileged individuals, but this is their first attempt at reaching out to women trainees in particular.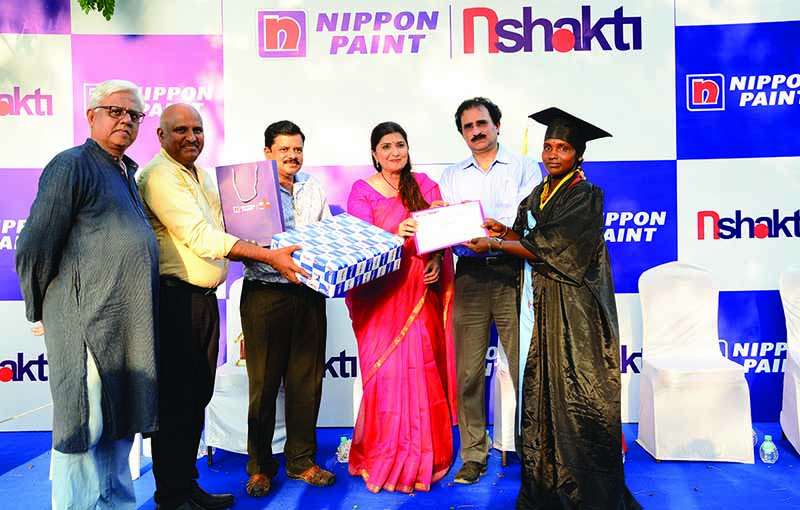 The genesis for nshakti initiative happened during one of Nippon Paint's community services in a rural Kanchipuram village called Sirudhamur where it had undertaken a local temple restoration project. The local women there, showed great interest during the process and it occurred that most of them displayed qualities that a professional wall painter requires.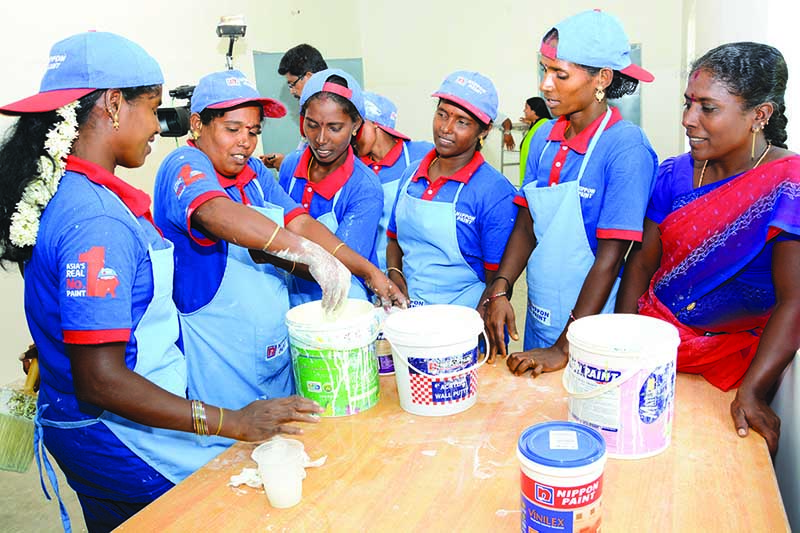 "We all know for a fact that in India, almost all wall painters are men. Even on a psychological level, women are reluctant to take up this job. So in an attempt to break away from gender stereotypes and encourage women to be self-sustainable, we decided to train them extensively," says S Mahesh Anand, President – Nippon Paint (India) Private Limited (Decorative Division).
Rural women are one demography of the population that have continually been deprived of proper skill training. For them, earning a livelihood has always been a challenge as they lack employable skills.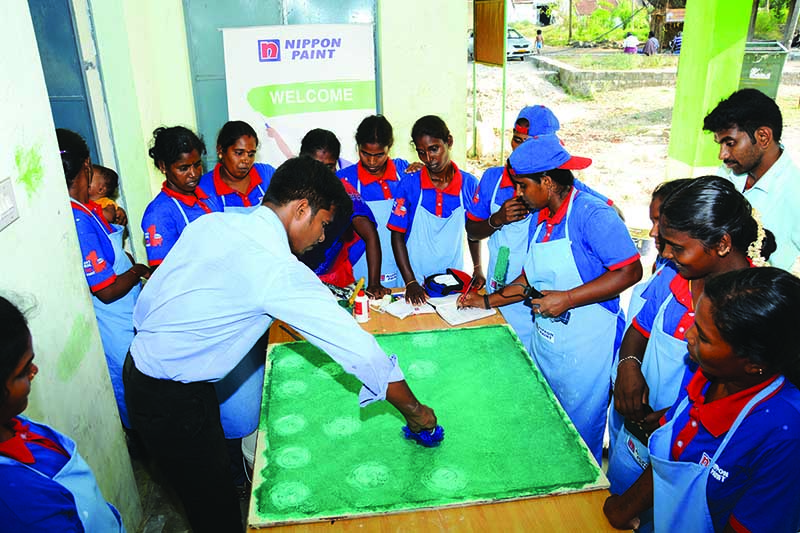 So apart from training these women, Nippon Paint ensured that they get proper job opportunities by providing them the right channels of employment. Their details are already shared with architects, salesmen contractors associated with Nippon Paint. Even though the initiative is relatively new, we have already achieved substantial results. Not only are these women now fully trained to cope up the demands of the job but, have also slowly begun to find themselves successful painting projects to work on in their own districts and adjacent ones.
Challenges numerous…
The company faced a number of roadblocks throughout this journey. To begin with, most of the women were devoid of any formal schooling or skill training, which meant that even simple things like counting, measuring or reading compositions became a hurdle.
"So, in a way we had to personalise their training to fit individual requirements," Anand says. "The second biggest challenge was sensitising them on a more psychological level. For instance, initially some were even reluctant to wear training garbs as they were used to wearing only sarees. It took us a long time to elicit a certain comfort level with them and enable them to understand. And the final challenge was training them physically. Painting is relatively laborious and we ensured that they were trained to be flexible to suit the demands of the job. Though initially we faced these issues, with time the trainees grew more confident and displayed tremendous capability of handling the job themselves."
At present Nippon Paint is already making plans to initiatethe second batch of nshakti training in Coimbatore and hope to complete that successfully. Another challenge is also to ensure that these women get access to the right channels of employment. Nippon Paint is in talks to initiate painting projects for them in Pondicherry and Tindivanam as these locations are relatively closer to and would be convenient for them.
"We have already ensured they are accessible to contractors, architects, builders and dealers in the nearby areas to enable regular business dealings. Other than that, we have plans of reaching out to various Village Panchayats to raise awareness of this initiative," he concludes.