Shri Narendra Modi, Hon'ble Prime Minister of India inaugurated the Global Conference on Cyberspace 2017 in the Capital in the presence of His Excellency, Ranil Wickramasinghe, Prime Minister of Sri Lanka; Shri Ravi Shankar Prasad, Hon'ble Minister for Electronics & Information Technology and Law & Justice, Government of India; Shri Manoj Sinha, Minister of State(IC), Department of Telecommunication, Government of India; Shri KJ Alphons, Minister of State, Tourism, Ministry of Electronics and Information Technology, Government of India; Secretary General of International Telecommunication Union, Houlin Zhao amongst other dignitaries.
The Prime Minister also launched the UMANG App that aims to bring 162 government services on a single mobile app, with a larger goal to make the government accessible on the mobile phone of citizens.
UMANG App is going to be a uniform user friendly interface across Government services and will bring 162 services of 33 department/ applications and 4 States. It will support 13 Indian languages and cater to on-demand scalability and will soon support feature phones without internet connectivity through USSD.
Themed on Cyber4All: A Secure and Inclusive Cyberspace for Sustainable Development, this is the fifth edition of GCCS wherein international leaders, policymakers, industry experts, think tanks and cyber experts will gather to deliberate on issues and challenges for optimally using cyber space. The overall goals of GCCS 2017 are to promote the importance of inclusiveness and human rights in global cyber policy, to defend the status quo of an open, interoperable and unregimented cyberspace, to create political commitment for capacity building initiatives to address the digital divide and assist countries, and to develop security solutions in a balanced fashion that duly acknowledge the importance of the private sector and technical community.
In his welcome address, Shri Ravi Shankar Prasad, Hon'ble Minister for Electronics & Information Technology and Law & Justice, said, "The fundamental philosophy of our government led by Prime Minister Narendra Modi is 'Sabka Saath, Sabka Vikas' (cooperation of all for development of all). Digital India seeks to realise this goal of inclusive development by using the tools of technology. The digital India vision of our Prime Minister Narendra Modi has given a new approach to achievement of the Sustainable Development Goals of the United Nations. It has given a new paradigm of technology led development for sustainable development. The spectrum of India's digital development ranges from digital delivery of services to rising digital economy powered by 1.3 billion people and reinforced by demographic dividend where 65% of them are below the age of 35."
"Corruption and leakages in the service delivery system that were the biggest roadblocks to inclusive growth and sustainable development have been tackled effectively by using the trinity of JanDhan Bank accounts-Aadhaar digital identity and Mobile phones or JAM trinity. Direct Benefit Transfers of financial entitlements into the bank accounts of the poor have benefited 515 million people and has curbed corruption and leakages in the system. It has also led to savings of nearly $9 billion in last three years of tax payers' money that was earlier pocketed by fictitious claimants and middlemen. I am confident that Global Conference on Cyber Space 2017 which is the largest congregation of experts from technology world, researchers, academicians and policy makers would prove to be a milestone in our quest for a safe, secure and inclusive cyber space," concluded Shri Prasad.
The Prime Minister also felicitated the winners of the Global Cyber Challenge called Peace-a-thon. The winners were declared following a 36-hour challenge in the Grand Finale of the Hackathon, wherein hundreds of teams from throughout India and from countries like USA, Canada, France, Argentina, Australia and Algeria turned up to showcase their talent and compete in the challenge.
Incepted in 2011 in London, second GCCS was held in 2012 in Budapest with focus on relationship between internet rights and internet security, which was attended by 700 delegates from nearly 60 countries. The third edition of GCCS was held in 2013 in Seoul with commitment to Open and Secure Cyberspace. The fourth version GCCS 2015 was held on April 16-17, 2015 in The Hague, Netherlands, which saw participation from 97 countries.
PM Modi in his speech said, "One of the major focus areas in cyber security space should be the training of well-equipped and capable professionals to counter cyber threats. Cyber-warriors will remain on alert against cyber-attacks. The term "hacking" may have acquired an exciting, even if dubious, overtone. We need to ensure that cyber protection becomes an attractive and viable career option for the youth. On a relative note, nations must also take responsibility to ensure that the digital space does not become a playground for the dark forces of terrorism and radicalization. Information sharing and coordination among security agencies is essential to counter the ever-changing threat landscape.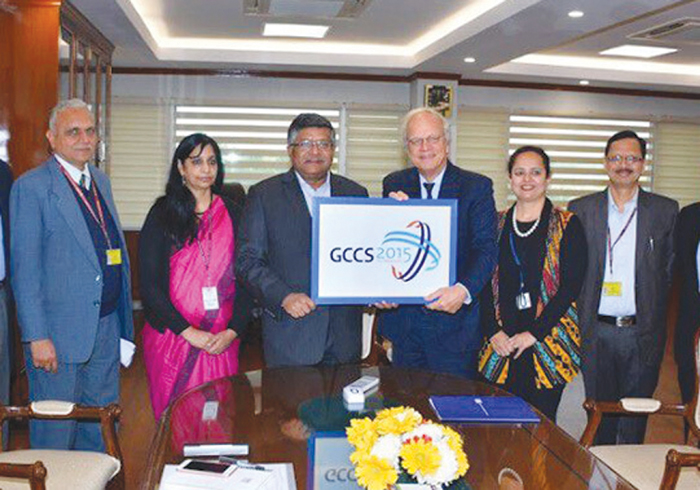 Surely, we can walk the fine balance between privacy and openness on one hand, and national security on the other. Together, we can overcome the differences between global and open systems on the one hand, and nation-specific legal requirements on the other."
While speaking on the various social media platforms, Prime Minister Modi said that these tools and platforms are making cyberspace participative for all. He said, "News that experts tell us from studios is now supplemented by experiences highlighted on social media. This transition, to a blend of expertise and experience, is the contribution of the cyber world."
Lastly, PM Narendra Modi said, "GCCS 2017 is one of the biggest cyberspace conferences in the world."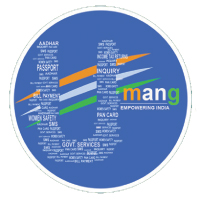 Launch of UMANG App
Prime Minister Narendra Modi launched the new mobile app – UMANG (Unified Mobile Application for New-age Governance) which will allow citizens to access government services on a single platform. The services live on the app include Aadhaar, DigiLocker, Bharat Bill Payment System (BBPS) among others.
The UMANG app is expected to provide access to over 1,200 services of various government organisations in states and at the Centre as well as utility payments.
Using the app, citizens will be able to access Employees Provident Fund Organisation (EPFO) services, apply for a new permanent account number (PAN), and those looking for jobs can register themselves under the Pradhan Mantri Kaushal Vikas Yojana.
The app is available on Android, iOS and Windows phones.
After successful roll-out of BHIM app, UMANG is a mobile application which is developed by the Ministry of Electronics and Information Technology (MeitY) and National e-Governance Division (NeGD). It provides a unified approach where citizens can install one application to avail somewhat 162 government services of 33 department and 4 states. It supports 13 Indian languages and caters to on-demand scalability.
This service has been made available on multiple channels like Google Play, Apple iTunes, web, IVR and SMS which can be accessed through smartphones, feature phones, tablets and desktops. An Indian citizen can also get this app by giving missed call on 97183-97183. While to get download link on handset, they will have to enter their mobile number.
The government has appointed a dedicated customer support for user convenience from 8 am to 8 pm for all days of the week.
The key goal of launching this application is to allow the citizens of India do everything online, at just a click – be it making a passport, Aadhaar or Pan, book a gas cylinder, know about your Provident fund account or resolving an Aadhaar related. Umang app basically provides a unified approach where you can install one application to avail multiple government services – almost over 100 of them.