Sharp NGO runs a comprehensive Health Care Programme in association with Chambal Fertilizers
A healthy being has the ability to grow as an individual and become a contributor in the growth of the country. However a lot of factors are responsible for the development of an individual including his/her surroundings, infrastructure and government policies. We at Sharp NGO make sure that CSR is in the DNA for the companies and not only a compliance requirement.
SHARP NGO has been advocating various issues that have brought change in the behaviour of people towards their health. In association with Chambal Fertilisers, SHARP NGO has been running a Comprehensive Health Care Program in Kota District of Rajasthan for the past three years. The NGO has targeted 26 villages and 33 schools, where health camps and sessions are helping people to make informed health choices. The programme in its initial stages engaged stakeholders to participate and gathering of people for maximizing the impact. This process included involvement of Health workers, conducting training workshops for them, discussing their basic requirements and the ways that could improve their health conditions. Other than empowering stakeholders, SHARP has conducted comprehensive health camps and specialized health camps targeting men, women, children and elders. The specialized camps include Gynaecology camp for women, Dental Camp for community, eye camp under which 3411 people received spectacles and 11 people were operated for cataract. Specialized camp such as orthopaedic camp, were held for elderly, where the medical team could talk about geriatric health care and understand detailed medical problems that the individual face.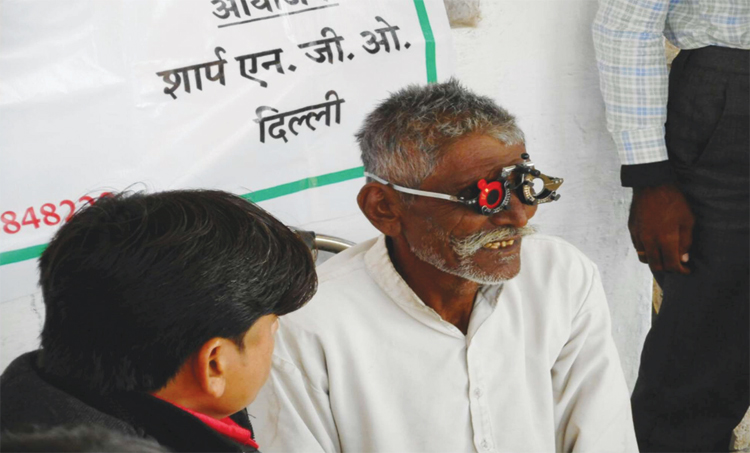 To sustain the programme, SHARP has also collaborated with government RBSK programme for school health check-up. The Anganwadi & Asha worker training programme was conducted and the main objective of the training was to understand the role of the Anganwadi & Asha worker in bringing about better community & to motivate Anganwadi & Asha worker workers in mobilising community participation.
SHARP conducted capacity building program for school teachers. Since sustainability and success of any educational program depends solely on the levels of training and passion of teachers, so in this phase, appointed teacher coordinators from the schools were sensitized on the importance of the program and trained on the methodology of the execution.
Awareness programmes such as Cancer, Breast Cancer, Menstrual Health and Management have been organized for the women and girls in schools and communities. Nukkad Nataks have been organized for Anti-Tobacco sessions. Sanitation sessions have been helpful to the school children such that they themselves audit their school toilets on regular bases.
SHARP through this programme has reached more than 15000 people and 10000 children who have actively participated and benefitted from various activities conducted by the NGO.