Eminent leaders from across leading organizations, CIOs and VARs opined the need of addressing compliances and challenges in AI, IoT and Automation
VARINDIA has recently organised its Tech Summit at Hotel Le Meridian, Bengaluru, where the CIO community and tech leaders from technology, Security and AI industry gathered to understand on how emerging technologies are creating newer markets. The Tech Summit also witnessed the next generation datacenter, AI, Storage and security products and solutions, while the leadership from ITI, IT Department of Karnataka, NVIDIA, Western Digital, Sophos, ESDS Datacenter and Quardgen Wireless spoke on various technology innovations. The event featured panelists from leading organizations, such as AEGIS, Gokaldas, Dailyhunt, e-Gov Karnataka, Cytechcare Hospital and iRam Technologies.
The summit was themed – 'Emerging Technologies to Create Newer Markets'. The discussions focused on the impact of data policy frameworks, challenges and opportunities emerging from AI and ML, Autonomous Vehicles, Data Security, security for IoT, and how the convergence of CIO and CMO partnerships are evolving to develop a collaborative relationship. Some of India's most valued dignitaries including Vishal Dhupar, Managing Director, South Asia- NVIDIA; M. Arun Kumar, EDR – R&D, ITI Ltd.; Sridhar Saranathan – CIO and Head of e-Gov-Karnataka; Byju Pillai, President & CEO – Inflow Technologies; Sunil Sharma, MD (Sales) – Sophos; Harsha N, Enterprise Business Development Manager – Western Digital and Murugan E, Regional Director- ESDS Datacenters in addition to 40 CIOs and 60 VARs (System Integrators and Solution partners) attended the discussions and debated on various technology innovations and challenges that have been exponentially increasing, particularly with Artificial Intelligence and Machine learning.
In his inauguration speech, Dr. Deepak Kumar Sahu, President & CEO, VARINDIA said, "India has huge technological talent and it is true that emerging and disruptive Technologies are Creating Newer Markets. For this I think both CIO and CMO alignment drives business growth, The C-suite collaborations is becoming one of the most important when it comes to delivering the kind of digital experiences that customers demand."
Deepak further emphasized on how "Disruption Is About Experiences". They just happen to be enabled by technology. It is like Businesses that find a way to better solve individual and collective challenges and use tech layers to implement those solutions.
"It's impossible to predict exactly which trends will become the most disruptive in 2019. That being said, there are a number of developments that have and will continue to shape business strategies. From automation to sustainability, organizations are adapting to a whole new wave of consumer preferences."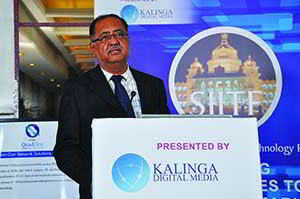 Arun Kumar
EDR – R&D, ITI Ltd
"Emerging technologies are going to create new markets in coming times. ITI over the years has been able to adopt to the emerging technologies, sustained ourselves and develop into what we are today. We are the first public sector in the country, started in 1945 and just completed 70 years of our foundation. We were the leaders in telecommunication, having established the entire network that fuel the Indian economy, from 1950 till 1992 when liberalization took place. We developed our new products by looking into the requirements of the market – the switches, telecommunication systems, transmission systems and the terminal products. We were able to develop, manufacture and put these products into the Indian market. And this is how we saw sustained growth in the industry despite several hiccups."
He also said that Chinese and American companies who are facing strong headwinds in each other's markets and winning in a large country like India can be a game changer for both sides, "especially if you believe data is the new oil". He also spoke about VARINDIA's identification of Top 10 Emerging/disruption technologies which are expected to disrupt the industry further.
Kicking off the discussions, Vishal Dhupar, M.D, South Asia- NVIDIA said, "The opportunities in the mobile cloud era is much bigger than the PC era, capabilities in artificial intelligence (AI) and deep learning (DL). AI application running on a device such as an autonomous vehicle is performing real-time collision avoidance. Power efficiency is equally important since these vehicles may have to go days, weeks or months without recharging. Lastly, the future of next generation product development would revolve around Artificial intelligence and Machine learning."
Adding to the discussion on emerging technologies, Arun Kumar, EDR – R&D, ITI Ltd said, "ITI Limited, is the country's first telecommunications PSU post-independence and is a premier telecom manufacturing company in the country. ITI has bagged many important projects including the orders in pipeline. ITI hopes to reach an order book of INR 22,000 crore in the coming 2 to 3 years."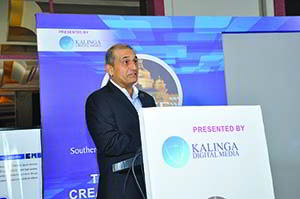 Vishal Dhupar
MD, South Asia- NVIDIA
"There are nothing that we as humans cannot understand what is happening in technology. That challenge that we face is we get caught up with it in a surprise. If you look at technology, it moves with certain patterns and continues to create those patterns over a period of time. If you pay attention to those, you would know exactly where it is going. It's almost like a drop that falls on a mountain and the water moves. Maybe what you cannot figure out is the path that that it is going to take. But we all know it is going to gravitate towards a downward slope. And it is for this reason that we knew telephones had to happen."
Under the leadership of K Alagesan, ITI has also entered into an agreement with Telecommunication Engineering Center (TEC) for establishment of state-of-the-art telecom testing labs at its Bengaluru plant to facilitate mandatory testing of imported and indigenous telecom equipment in India. ITI has also partnered with 50 start-ups and original equipment manufacturers (OEMs) covering the manufacturing of a wide range of ICT and IoT-based solutions.
Arun Kumar also spoke about project leading capabilities by ITI, R&D in ITI for various projects and upcoming networks for Army and also about its first Indigenous crypto system for Indian Army for securing the communication network of Indian Defence forces. AI and IoT are creating newer revolution in the technology era.
He further added, "We are talking about IoT but I would say the future of computing is Quantum technology and Quantum computing. Not only India and but across the world, Bengaluru is named as the leader in this Quantum Technology and this is going to be the future".
Speaking on the theme of the event, three corporate houses presented their perspective. The first presenter was Harsha N, Enterprise Business Development Manager from Western Digital, who spoke on how digital transformation is happening through Data and at the same time how it is creating environments for data to thrive and creating a data driven economy. He also spoke about how Western Digital has become the global leader in storage technology with $19.1 billion dollar.
Murugan E, Regional Director- ESDS Datacenter spoke on how newer technologies are bringing newer opportunities in the age of cloud. Sunil Sharma, MD (Sales), Sophos spoke about the security landscape and its growing importance in the digital era and how these newer threats are impacting the industry. He also spoke about how Sophos is bringing newer opportunities for securing enterprises.
The event witnessed the participation of CIOs from various industries. The attendees included Subbarao Hegde, CIO Index USA/Director, Apon India; Krishna M S, Head-IT, Toradex Systems India Pvt. Ltd; Senthil N, Director IT & CIO, Sun Innovation Systems Pvt. Ltd.; J.M. Priyadarshan, Vice President, Neo Values Solutions; Raghunath Thiyagarajan, Director – Infrastructure Service & Cloud Practice; Nandkishore Dhomne, VP-IT & CIO- Manipal Health Enterprises; KRC Murthy, VP, Head of RTB-IT- Kotak Mahindra Bank; Arvind Kumar, Director-IT- Elior India Catering LLP; Ajay Bakshi, Chief Digital Officer & SVP-Aegis BPO & KPO; Jai Thomas, Head IT Infra & Operations – Dailyhunt (Versé Innovation Pvt ltd); Himanshu Rastogi, CIO, Medi Assist; Prashant Kumar, Head-IT- Alstom India; Raman Pillai, G.M, Ather Energy; Chirag Boonlia, VP-IT, Virtuous Retail Services Pvt. Ltd; Paul Raj M, GM & IT Head-Puravankara limited; Harish H S, Principal Consultant-Hanvik Infosec; Ramesh V, Technical Head, IT Department Karnataka State Financial Corporation; Ganesh Ramachandra, CIO, UST Software India Pvt. Ltd.; Ramesh Subramaniam, Director-Technology, DXC Technology; N. Balasubramanian, General Manager & Head of IT, Cloudnine Group of Hospitals; Manish Shah, GM-IT, Gokaldas Exports; Hariharan Subramani, VP-IT, Shriram Properties Ltd.; Vasudevan R, CIO, Aster CMI Hospital; Girish Kulkarni, CIO – Cytech Care Hospital, Sandeep Panda, CEO- InstaSafe and Uday Bhaskhar Rao, MD – iRam Technologies.
The panel discussion session was based on various topics related to Data Policy frameworks in India. AI and ML are changing the way that gets things done all over the world and expect a multi-modal transport platform to emerge. Various companies are building multi-modal platforms, furthering the cause of transportation to a whole new level.
The installation of smart sensors and the application of data analytics will deliver further steps towards the factory of the future. The wider use of automated processes powered by AI, advanced robotics, and IoT connectivity will contribute to realizing the ambitions of Industry 4.0., otherwise known as the Fourth Industrial Revolution.
The Q&A session witnessed the discussions on how infotainment is on the brink of major evolution, with the next global megatrend being seamless connectivity between smartphones and automobiles.
VARINDIA's Annual Tech Summit is a comprehensive platform dedicated to sharing knowledge and best practices and initiating dialogues on innovation and disruptive technologies, through sessions like Tech Talk and Panel discussion sessions. In its essence, Tech Summit aims to promote the spirit of innovation and empower VARs and partners to connect and learn from industry veterans.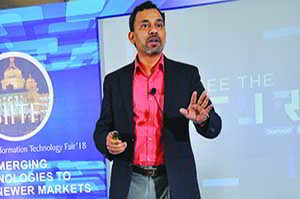 Sunil Sharma
MD (Sales) – Sophos
"Our Lab analyses 4 lakh new, unique malware every day. That is the kind of research that gets into it. At Sophos, innovation is the only game and we protect our customers by innovating every minute and every second. But let me tell you that Indian audience does not get scared by the threat landscape that is projected daily, because we are already been threatened by terrorists with guns in hands. Indian customers could not go beyond anti-viruses, firewalls because they could never think about deploying an anti-ransomware into their environment. According to one of our IT Security surveys, there happens to be 26 infected computers in a month, and 10 days per month is invested for cleaning up the infected computers."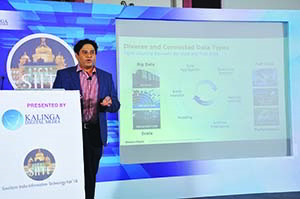 Harsha N
Enterprise Business Development Manager from Western Digital
"If we look at the world today, from the moment we get up till we sleep, we create data. But these data are all unstructured and we do not know where they go. Today's Technologies like AI, ML, IoT create tons and terabytes of data. There is nobody in the industry that understands data better than us because we are the backbone of where the data resides. Today we talk about data being the new oil – it could be personal data, company data, secured or unsecured. There is a lot of value for data – we use them as record, we use it for communication, efficiency and we also use it as a currency today. There are different kinds of data today right – Big Data which can scale, and Fast data which is performance oriented."
Murugan E
Regional Director- ESDS Datacenter
"We see digitalization everywhere and this pose as an opportunity for us. When we talk about infrastructure, we refer to the cloud. Cloud is the major infrastructure for all enterprises, Government today which is going to be the future. 2020 is going to be the year of Cloud, and it is going to take a larger portion in the market. Customers are now adopting cloud technology on a larger level in order to get more efficiency, scalability, cost benefit, security and so on. 86% of the customers are going to adopt the cloud in coming times, which means there is a larger opportunity for a company like us. We play a major role in the industry and we are a 13 year old company in India. We have 1000+ customers in India."
PANEL DISCUSSION
"Emerging Technologies TO Create Newer Markets"
Moderated by Dr. Deepak Kumar Sahu, CEO & President – VARINDIA
The language of business is revenue, and that is completely tied to pipeline creation and progression. Data in the form of insights, should shed light on new marketing and business innovation opportunities and should inspire action. Data for any organization is critical for analyzing, providing the results and for taking any business decisions.
The panel discussion tried to highlight of how important the Data Policy Framework is. Having a Data Policy Framework is important so that none of the critical data is leaked. It should also take into account of how much data should be there, the retention policy (as per Govt. policy, data should be retained for 5-10 years based on the industry) and so on. Every organization has a data framework policy but how to take it up is always an individual decision. Things like how we should utilise that data in a proper way or store it appropriately by taking a back-up are some of the things that should be taken care of. For this a clearly defined Data framework should be there for every organization.
Every registered company today gets worried about what happens to their citizen data. The policy should talk about how we can keep the sovereignty of the country while keeping a larger perspective of the customers. How do we regulate the use of this data is going to be the future. The implementation needs to be seen of how it will be helpful for the larger public. There is going to be a lot of learning for the auditors and people are going to implement those regulations.
The panelists who participated in the discussion were – Uday Bhaskhar Rao, MD – iRam Technologies; Jai Thomas, Head IT Infra & Operations – Dailyhunt (Versé Innovation Pvt ltd); Manish Shah, GM-IT, Gokaldas Exports; Ajay Bakshi, Chief Digital Officer & SVP-Aegis BPO & KPO; Sridhar Saranathan-CIO and Head of e-Gov-Karnataka, and Arvind Kumar, Director-IT- Elior India Catering LLP.