The 22nd edition of the StarNite Awards 2023, held on 17th of November at hotel- Le Meridien, New Delhi, brought together a distinguished gathering of technology leaders from across the country to celebrate the achievements of India's IT industry. The event featured insightful discussions, keynote addresses, and presentations highlighting the transformative impact of technology.
The morning session commenced with a traditional lamp lighting ceremony led by Dr. Deepak Kumar Sahu, Publisher-VARINDIA, and esteemed guests from the industry, including Darsshan Somaiya, Partner Sales Organization-Hitachi Vantara; Col. Suhail Zaidi (Retd), Director General-MAIT; Deepak Sar, Distribution & Alliance Director- Hitachi Vantara; Suchit Karnik, Chief Operating Officer-RAH Infotech; Lata Singh, Partner- GIC Strategic Partner Leader- IBM Consulting; Dr. Biswajit Mohapatra, Head of Customer Solutions Management, India and South Asia- AWS; Pradeepta Mishra, Co-Founder & Chief Architect- Data Safeguard Inc.; Dr. KarnRajhans, Director- BGIL Film and Technology Ltd.; Devesh Rastogi, President, FAIITA; ChampakrajGurjar, President- TAIT; Alok Gupta, President- PCAIT and S. Mohini Ratna, Editor-VARINDIA. 
In his welcome address, Dr. Deepak Kumar Sahu emphasized the dynamic and challenging landscape of the IT industry, driven by innovations such as cloud computing and artificial intelligence. The convergence of connectivity and cloud technologies was identified as a significant growth opportunity for Value Added Resellers (VARs) and Managed Service Providers (MSPs).
The morning session also featured presentations and discussions by industry leaders, including Devesh Rastogi, President-FAIITA; Col. Suhail Zaidi (Retd), Director General-MAIT; Darsshan Somaiya, Partner Sales Organization-Hitachi Vantara; Suchit Karnik, COO-RAH Infotech, and Deepak Sar, Distribution & Alliance Director-Hitachi Vantara.
The Corporate Presentations featured key industry players, including Dattatray Katkar from Allied Telesis and Pradeepta Mishra from Data Safeguard Inc. shared their expertise on data security, privacy, and cloud solutions.
The afternoon session continued with engaging presentations by industry leaders such as Maj Gen Rajesh Arya from CP Plus, Piyush Verma from Kaspersky, Vikas Jain, Manager – Systems Engineering, India Channel, Nutanix; Amod Phadke from Computhink and Dinesh Kumar from SOTI.
Panel discussions with VAR community leaders added depth to the discussions on business transformation and industry trends. Panel discussions, moderated by Dr. Deepak Kumar Sahu, provided valuable insights into the challenges and opportunities in the IT industry.
The VAR Symposium 2023 afternoon session unfolded with a dynamic display of insights, discussions, and accolades, captivating the audience with a spectrum of industry perspectives and innovations. The session commenced with an engaging panel discussion, moderated by Dr. Deepak Kumar Sahu, Chief Editor of VARINDIA, featuring senior leaders from the VAR community. The insightful discourse delved into the latest trends, challenges, and opportunities shaping the technology landscape.
Following the panel discussion, the stage witnessed presentations from industry giants, Pure Storage and Fortinet. Jithesh Chembil, Head Channel -India- Pure Storage, and Rajeev Abichandani, Strategic Alliances Lead – India & SAARC, Fortinet, shared profound insights into channel-focused business strategies, and cutting-edge approaches to cybersecurity, respectively.
The highlight of the afternoon was the announcement of the "Eminent VARs of the Year 2023 Awards." With 18 distinct award categories, the event celebrated excellence and innovation in the Value-Added Reseller (VAR) community.
After that Dell Technologies took the spotlight with a presentation by Amol Srivastava, Director-Channels, offering valuable insights into the channel business, marking a significant contribution to the enriching session.
The afternoon session culminated in the felicitation of Channel Chiefs in the Indian tech industry. S Mohini Ratna, Editor VARINDIA, provided an overview of the revolutionary impact of Channel Chiefs in bringing technology and partner ecosystems together. As the afternoon session drew to a close, attendees were invited to a short tea-break, setting the stage for the highly anticipated evening session of the 22nd VARINDIA Star Nite Awards 2023.
The evening session of the StarNite Awards 2023 witnessed a convergence of industry luminaries, thought leaders, and technology enthusiasts, marking a spectacular showcase of insights, recognitions, and visionary talks. The session commenced with an invigorating welcome address by S Mohini Ratna, Editor of VARINDIA, who set the stage for the evening by delving into the Channel Leadership Survey 2023 and providing an overview of the Indian IT Industry. Her address provided valuable context for the awards and discussions that followed.
A moment of solemnity followed with the Lamp Lighting Ceremony, presided over by Dr. Deepak Kumar Sahu, Publisher and Editor-in-chief, and joined by esteemed dignitaries, including S. N. Tripathi, Director General- IIPA, Govt. Of India; Dr. Rishi Mohan Bhatnagar, President-Lava International; Amitansu Satpathy, Group Managing Director, Best Power Equipments; Rajesh Goenka, CEO- Rashi Peripherals Ltd. and other distinguished personalities.
The highlight of the evening was the unveiling of the "Channel Policy Hand Book". This initiative celebrates corporates transparently sharing their channel-friendly policies, fostering a culture of openness and collaboration within the industry.
Rajesh Goenka, CEO- Rashi Peripherals Ltd., shared his vision for the Indian VARs and Partners, emphasizing the role of the partner ecosystem in serving the industry. The session continued with engaging moments of interaction, including a thought-provoking question-and-answer segment, where attendees had the opportunity to test their knowledge on crucial concepts in cyberspace.
S. N. Tripathi, Director General- IIPA, Govt. of India, shared his insights on protecting against the increasing cyberattacks, providing valuable guidance to the audience.
Dr, Pankaj Dikshit, CTO, Govt. e-Marketplace enlightened the audience on the Government e-Marketplace (GeM) and its role in enhancing transparency, efficiency, and speed in public procurement.
A series of enlightening speeches followed, featuring industry leaders such as Dr. Rishi Mohan Bhatnagar, President – Lava International Limited and Darsshan Somaiya, Partner sales Organisation- Hitachi Vantara. The Thought Leadership roundtable provided a glimpse into the present and future technologies endorsed by their respective organizations.
The evening reached its pinnacle with the announcement of the Lifetime Achievement Award, conferred upon Sanjiv Krishen, Chairman Of the Board- IRIS Computers Ltd. A pioneer in the IT industry with over 48 years of experience, Krishen received the prestigious honor for his exceptional contributions to the sector.
The session concluded with the recognition of Chief Marketing Officers (CMOs) of the year 2023-24, and Channel Leadership Survey Awards acknowledging the pivotal role they play in driving the adoption of emerging technologies.
The VARINDIA StarNite Awards 2023 promises to be a landmark event, celebrating the heroes of the IT industry and recognizing the innovative spirit of Made in India companies. The StarNite Awards 2023 provided a platform for networking, knowledge sharing, and recognition of excellence in the Indian IT industry. We extend our gratitude to the sponsors, speakers, and attendees for their valuable contributions to make this event a grand success.
Devesh Rastogi, President- FAIITA 
"The government of India has come up with a policy where it set up a National Traders Welfare Board on 19th July of 2023. Though it was the election agenda of the present government, but it has taken shape little late because of covid situations. Interestingly, the Board has Joint Secretaries of nine departments along with the channel fraternity of the IT industry.  The entire representation of the IT industry will be there through us. VARINDIA will act as a vehicle through which the entire industry can get across their pain points that needs to be addressed and I being a Board member of this traders body will be able to help in this regard."
Channel Empowerment Session
Yati Mago, Sr. Solution Consultant – Hitachi Vantara India   
"Hitachi Vantara is going to have a virtual storage platform which is going to address all your hybrid cloud requirements. There is going to be a single data fabric for all kind of workloads going forward. This is going to be true for even legacy workloads. The first layer of the platform is the Data platform. So whatever workloads we will have – be it AI, databases – can be addressed through this single platform."
Madhur Sajwan, Solution Consultant – Hitachi Vantara India
"To make the experience of the hybrid cloud centric customers more flexible and enjoyable, we are working on a new strategy that will provide the right solution or the application on the data at the right time. We are living in a hybrid cloud environment as of now and this we know creates siloes – we have datacenters, on prem, cloud environments, edge environments. Data is unknown as we have all kinds of data and we also don't know the quality of the data. Hitachi Vantara is trying to solve this issue by providing all types of data centric solutions."
Col Suhail Zaidi (Retd), Director- General, MAIT 
"The IT industry, which MAIT represents, depends on the growth of the domestic industry and the demand in the market apart from the various initiatives taken by the government. We believe that this sector consists of four dimensions within it – the first is the consumer electronics (laptops, smartphones), the IT peripherals (printers, scanners, keyboard), the networking & the communication equipment (router, modem, switches) and then IT components (semiconductors, chips).  This industry has rapidly grown over a period of time and the growth has been consistent since 2017 when the market was around $43 billion."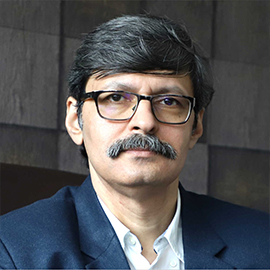 Suchit Karnik, Chief Operating Officer- RAH Infotech 
"RAH Infotech is a Value Added Distributor for Hitachi Vantara, a data driven global organization. It manages, protects, transforms, and accelerates your data. We all understand data is in today's world and along with that data security is equally important. RAH Infotech, being a trusted partner for data and networking security, has that synergy with Hitachi Vantara. It is a very important and strategic partnership that we have; both of us share the common goal of managing and securing the data for an organization and adding value to the business."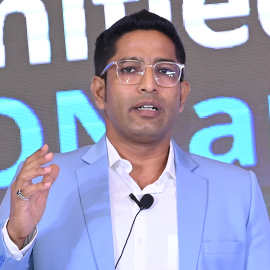 Dattatray Katkar, Director Alliance- Allied Telesis
"Allied Telesis is an AI-enabled end-to-end network security company. We have been operating in India from last seventeen years. We understand that there are already many OEMs present in the market and so we try to bring value addition to partners. In current scenario when most of the OEMs are struggling for deliveries, we can deliver the products in a much shorter timeline since we have in-house end-to-end design, develop and manufacturing capabilities. A common challenge that every CIO/CTO feels still persists is the absence of a management module or a seamless digital delivery. In today's time, if there is a network loss then it is a business loss for the organization. Because entire business is running on applications and entire applications are running on networks."
Pradeepta Mishra, Co-Founder & Chief Architect- Data Safeguard Inc 
"What is the different between data privacy and data security? While data security is about restricting unauthorised access to data. But what is data privacy? Do you want your personal data to be made public by someone else or marketing or branding purpose, probably not? So, we have seen data privacy laws coming up globally with the government of almost all country formulating policies and guidelines around it – like GDPR, CCPA. These laws are designed to protect privacy of personal information which is not supposed to be shared on public platforms. A recent incident of the leaking of Aadhaar data of 80 crore Indians on the dark web is a major cause of concern."
Maj Gen Rajesh Arya, Sr Consultant and Head Business Development & Training, CP Plus 
"With a visionary approach, CP Plus has achieved remarkable growth, expanding fivefold over the past five years and establishing itself as a household name. Over the last 15 years, the escalating demand for safety and security, fueled in part by the influence of social media and the global security landscape, has propelled CP Plus to the forefront. In response to this growing need, CP Plus strives to provide a sense of security to individuals and communities. CP Plus has experienced a surge in demand, exemplified by a substantial order of five and a half lakh security cameras from our partners. These cameras are slated for installation across India, catering to the security requirements of elections in five states over a fixed period. Demonstrating our commitment to meeting such demands, CP Plus boasts a robust manufacturing capacity of approximately 15 lakh cameras per month. In anticipation of heightened demand during the summer season, CP Plus proactively responded by establishing a cutting-edge factory with a staggering capacity of 16 lakh cameras per month. This facility now stands as the world's largest CCTV manufacturing unit outside of China. This significant leap in production capacity underscores CP Plus's dedication to providing innovative and reliable security solutions on a global scale."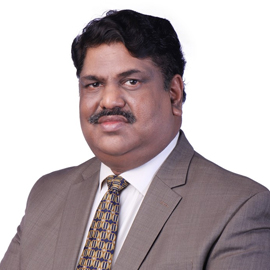 Jitesh Chembil, Head Channel – India, Pure Storage
"For the last nine years we have been gaining market share, every year we have been gaining 20% of market shares from our competitors. So, why we are doing that is because we deliver outcomes. For example, we consume the lowest amount of power and space. Our equipment consumes less power which is less than your microwave oven at home. It is 10 times more reliable because you have less service visits. The system has a lot of in-built automation and ML capability and it automatically dials out and a smaller number of service engineer visits required. Second, we give almost 50% lower TCO and are more reliable. We are more consistent from a product line perspective because we serve all the SAN, NAS and content based storage."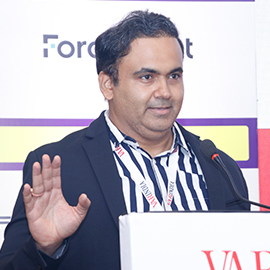 Rajeev Abichandani, Strategic Alliances Lead – India & SAARC, Fortinet 
"The cybersecurity market in India is close to three billion dollars in 2023 and it is growing at 30% CAGR. The opportunity in this space is humongous. If you see our feet on the street, there are more than 200 sales guys. Also, we are the number one peer play cybersecurity company in India. We have more than 800 engineers in Bangalore and Pune and are working on Make in India solutions. We are a 100% channel centric company or a channel first company. We are known for next-generation firewalls."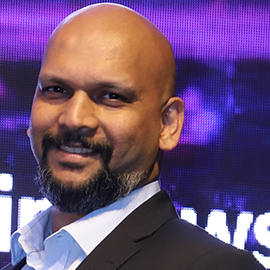 Amol Srivastava, Director – Channels, Dell Technologies
"At Dell, our vision is to be the preferred transformational technology vendor for our partners and distributors. We are very focused on three things – growing and modernizing our core business, building new opportunities and how to make it easier to do business with Dell and also enhance your experience so that you come and transact with us time and again. We are truly a partner first organization. In our approach of partner first strategy what we also do is we talk about the opportunities on the horizon and the incoming challenges. That is how we win every time."
Rajesh Goenka, CEO, Rashi Peripherals Ltd.
"Rashi Peripherals is a 33-year young company, incepted in the year 1989. Today, our pride is our infrastructure which is unprecedented in the country. Currently we have 50 city physical presence in terms of branch offices, warehouses and service centers. Our endeavour to expand and penetrate into smaller towns and cities continues.
Rashi Peripherals is a pure channel company. At Rashi more than 90% of the business happens through channels. We work with our channel partners, we support them in pre-sales, post-sales tech support and we also create some channel financing schemes both in-house and third-party. Our objective always is to strengthen channel partners to expand the presence. Our vision is – we want IT products to be made available in each of the 850 districts of India."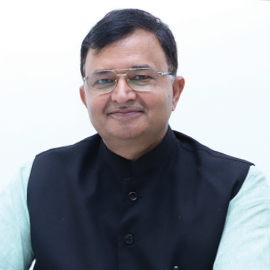 S. N. Tripathi, Director General- IIPA, Govt. Of India
"When India is digitizing at a speed and scale which we call population scale, we are leaving a lot of data in the open which is there for sale, re-sale, re-branding, re-packaging but that is also for the thieves and cyber fraudsters to misuse and create deep fakes. Today, we are leaders in zero cost transaction banking. One-tenth billion transactions happen on UPI every month."