Chief of Defence Staff General Anil Chauhan inaugurated a two-day workshop on 'Human Factors Engineering in Military Platforms' in New Delhi on March 15, 2023. The workshop has been organised by Defence Institute of Physiology and Allied Sciences (DIPAS), a Delhi-based laboratory of Defence Research and Development Organisation (DRDO).
The aim of the workshop is to evolve a policy framework and practices to ensure scientific implementation of Human Factors Engineering (HFE) in the defence sector, thereby providing an impetus to the vision of 'Aatmanirbhar Bharat'. The HFE is a science concerned with the design of tools and systems by taking into account human capabilities & limitations for safe and effective use.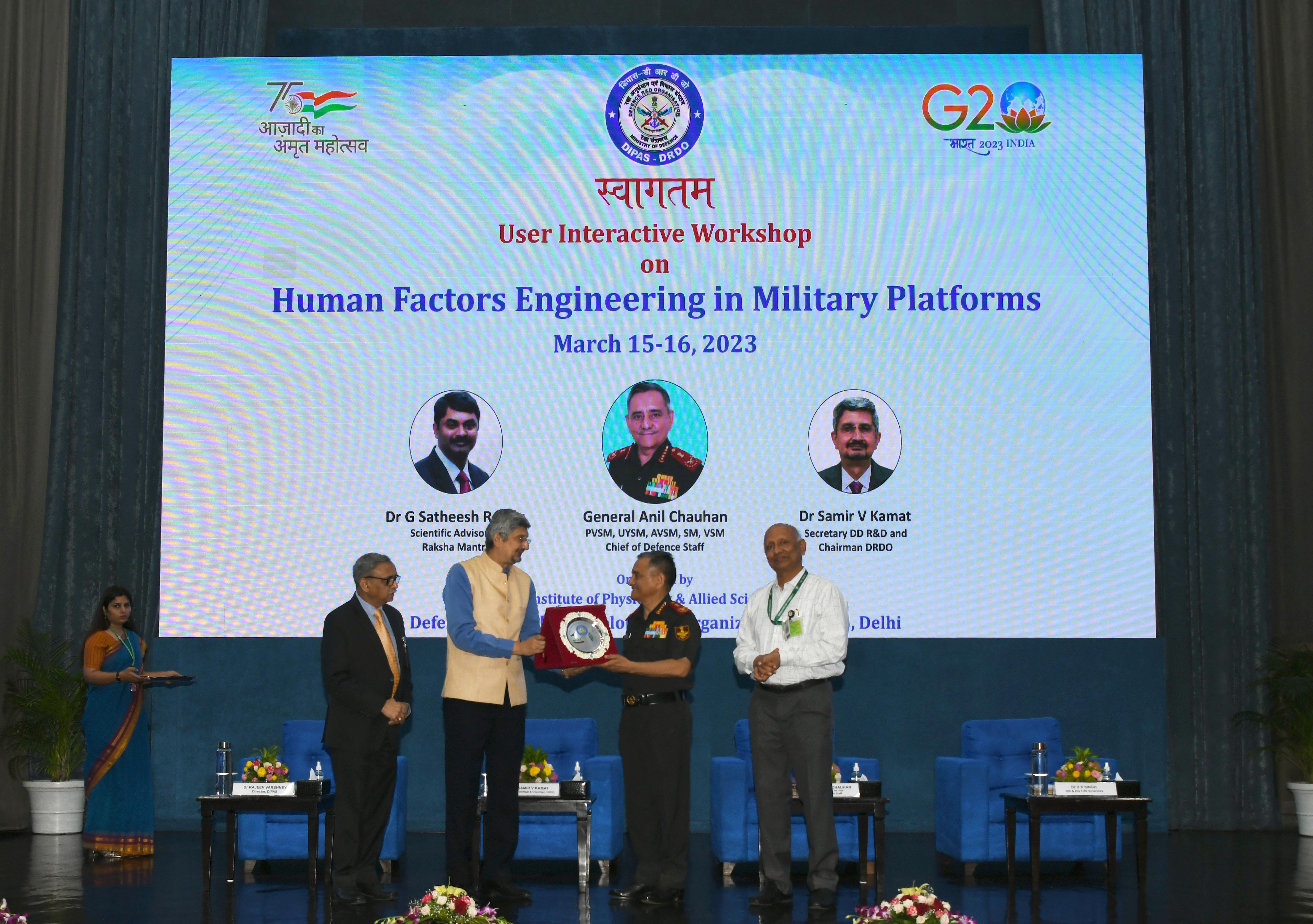 In his address, the Chief of Defence Staff emphasised on the need for incorporation of the HFE right at the stage of qualitative requirements and designs to make indigenous weapons suitable for soldiers. He called for creating a synergistic approach and policy framework for the implementation of the HFE through the involvement of Integrated Defence Staff taking into consideration both long drawn battles and short duration special operations.
Speaking on the occasion, Secretary Department of Defence R&D and Chairman DRDO Dr Samir V Kamat highlighted the initiatives taken by DRDO for implementation of the HFE as integral part of the product development cycle to ensure that the products are developed not only for Indian soldiers but are also available for export. He emphasised that in the age of Artificial Intelligence and system autonomy for defence equipment, the HFE will play an equally important role.
Director Generals, Directors from DRDO Headquarters & laboratories working on futuristic defence technologies, senior scientists; representatives from Strategic Planning, Army Design Bureau, Armoured Corps, Infantry, Warship Design Bureau, Indian Air Force and senior officials of several defence industries & defence PSUs are attending the workshop.