"Success of democracy is impossible without participation of the people," said Hon'ble Prime Minister Shri Narendra Modi. It is true that India is the largest democracy in the world and citizens here are highly enthusiastic to be a part of governance."
In a recent development, Prime Minister Narendra Modi announced the formation of a five-member panel to advise him on economic issues as he faces a slew of provincial elections in the coming months and a general election in 2019. He also unveiled a $2.5-billion programme to ensure electricity for all households, which may help boost the rural economy.
The significance of the current reshuffle is the rise of women power in the Modi Cabinet. The Ministries of External Affairs, Defence and Information & Broadcasting are the key departments in governance. The Modi Government has six women with charismatic persona in its Cabinet of 27 ministers, including two – External Affairs Minister Smt. Sushma Swaraj and Defence Minister Nirmala Smt. Sitharaman – in the powerful Cabinet Committee on Security (CCS). The other women ministers in the Cabinet are Maneka Gandhi, Smt. Smriti Irani, Uma Bharati (all from BJP) and Harsimrat Kaur Badal (SAD MP).
Six women in the Cabinet are a record and it is a strong message of women empowerment to the world, and the Modi Government won't shy away from giving important portfolios to women. Textiles Minister Smt. Smriti Irani, who was recently given an additional charge of the all-important I&B Ministry, is considered pitch-perfect for spearheading the government's information machinery ahead of the 2019 elections and countering the Congress attacks. Smt. Sushma Swaraj continues to be an asset to the government with her citizen-centric handling of the External Affairs Ministry and political pragmatism she brings to the CCS.
Prime Minister Narendra Modi is all praise for External Affairs Minister Smt. Sushma Swaraj's sterling achievements and her Ministry has set an example of effectively using social media to deliver good governance and help Indians in distress in any part of the world. Social media has become very powerful. "The External Affairs Ministry and Smt. Sushma Swaraj has set the best example of how a government department can be strengthened through its use," Prime Minister Modi said in his address to the Indian diaspora during a community event in Virginia.
"The objective is to achieve peace, tranquility through diplomacy," External Affairs Minister Smt. Sushma Swaraj said in a press conference on the key initiatives of her ministry in three years of the Modi Government. She also described the proposed changes in H-1B visa as a "matter of concern". She said the Government was engaged with the Donald Trump administration, as well as US Congressmen on the issue, and was "alert" to any possible negative impact. India-US ties are progressing under the Trump administration as they were during the Obama Presidency, and the pace has not slowed down.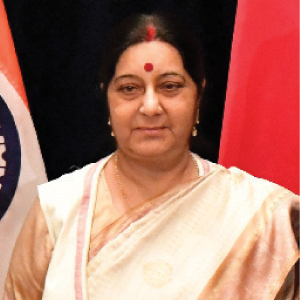 Smt. Sushma Swaraj further added, "80,000 Indians, stranded in foreign countries, have been rescued in the last three years." She would like to thank Prime Minister Narendra Modi and her deputies Shri M.J. Akbar and General V.K. Singh for her ministry's achievement. "I bifurcated the work after deep introspection. I assigned field work to General (V.K. Singh) and dialogues to journalist (M.J. Akbar)," Mrs Swaraj said.
She further rejected Trump's allegations that India will receive benefits by signing the Paris agreement. "India did not sign the Paris agreement under duress or for monetary benefits," Mrs Swaraj said. By speaking on the Kashmir issue, Mrs Swaraj said there was no flip-flop on the part of the government in handling Pakistan. "Pakistan cannot take Kashmir issue to the International Court of Justice. The Kashmir issue can only be resolved bilaterally," she said. She was replying to a question on the reported remarks of Pakistani law officer that Islamabad will take the Kashmir issue to ICJ. "We want to resolve all the issues with Pakistan bilaterally, but talks and terror cannot go together," the Minister said.
"Good governance is fundamental and eGovernance is instrumental. Smt. Sushma Swaraj strongly believes in giving a 'human face' to diplomacy and effectively using of social media in delivering good governance. The External Affairs Ministry is now connected with the poorest of the poor in the country. He praised Swaraj's habit of promptly responding and acting on tweets by Indians in distress anywhere in the world. Lastly, if any Indian in distress tweets from anywhere in the world to the External Affairs Ministry, even at two in the night, within 15 minutes External Affairs Minister Smt. Sushma Swaraj replies to it and the Government takes prompt action and delivers results. This is good governance," Prime Minister Modi said.
Smt. Nirmala Sitharaman geared to transform Indian Defence Sector
The appointment of Smt. Nirmala Sitharaman to the Defence Ministry as the only second woman after Indira Gandhi by Prime Minister Narendra Modi was a big bang. With Smt. Sushma Swaraj as External Affairs Minister, the two together make up half of the all-powerful Cabinet Committee on Security.
Defence Minister Smt. Nirmala Sitharaman has been working proactively in an innovative way by visiting the Army bases for reviewing on defence preparedness, by meeting the armed forces chiefs regularly to expedite defence procurement procedures. On taking steps towards modernization of the Army State-owned Ordnance Factory Board (OFB) which has been nominated for the project, L&T, Reliance, Tata Motors, Mahinda, and Tata Power SED-Titagarh Wagons had responded to the EOI (Expression of Interest) in the deal in 2015. Now comes her first major move. By giving a push to the long-awaited project held up for over a decade, she signed a $12-billion project to procure 2,300 Futuristic Infantry Combat Vehicles (FICVs) for the Indian Army.
"The Modi Government has taken significant steps to modernize the Armed Forces with modern weapons, ammunition and vehicles. In a historic decision, Smt. Nirmala Sitharaman has announced that the Army will soon introduce women in the corps of Military Police. The plan – being seen as a major step towards breaking gender barriers in the force – is to induct approximately 800 women in the Military Police with a yearly intake of 52 personnel," Adjutant General of the Army Lt. Gen. Ashwani Kumar said.
Smt. Nirmala Sitharaman, Defence Minister, and James Mattis, her US counterpart, on Tuesday held comprehensive talks on deepening bilateral military ties, including supply of advanced defence technologies to India. Mattis also emphasized on enhancing maritime cooperation between the two nations (India and U.S.).The two leaders agreed to explore additional and specialized exercises between the militaries of the two countries.
The armies of the two countries are currently participating in the joint military drill Yudh Abhyas 2017 and their navies recently concluded in the Bay of Bengal, the 2017 edition of Malabar, a trilateral exercise between India, the U.S. and Japan.

The US (Trump administration) wants to sell F-18 and F-16 fighter planes to India under the scheme of Make-in-India campaign, built by American companies Boeing and Lockheed Martin, respectively. Both companies have offered to assemble these planes in India. However, there is no specific defence trade deal which was announced during Mattis' India visit, along with efforts to identify new projects under the ambitious Defence Technology and Trade Initiatives (DTTI).
"India is also keen on buying drones and Unmanned Ariel Vehicles (UAVs) from the U.S. We also discussed the ways to further deepen the robust defence trade, technology collaboration between our defence industries. We look forward to assuring some of our most advanced defence technologies through the Defence Technology and Trade Initiatives (DTTI)," Mattis said during a joint press briefing after his talks with Smt. Sitharaman.
"The US is now a leading supplier of state-of-the-art defence equipment to India. I appreciated Secretary Mattis' willingness to share further cutting-edge platforms which would enhance India's defence preparedness to meet current and emerging threats," Smt. Nirmala Sitharaman said. "This move will provide further energy and momentum to our collaboration on defence technology and manufacturing," she further said.
Textile Sector records triple-digit growth in 3 years
Smt. Smriti Irani, Union Textiles Minister, and Smt. Vasundhara Raje Chief Minister of Rajasthan, inaugurated the 6th edition of the four-day International Textile and Apparel Fair, "VASTRA" at Sitapura Industrial Area in Jaipur. Mrs Irani said that concerted efforts were being made for creating employment opportunities in the textile sector.
The textile industry in the country is growing exponentially with the Foreign Investment (FDI) having tripled in three years by touching the figure of US$618.95 million in 2016-17.
"There is still a huge potential for further growth in the sector for which multifarious efforts are being made by the Centre as well as different states," said Smt. Smriti Zubin Irani, Union Minister of Textiles & IB, while inaugurating the International Textile and Apparel Fair, Vastra at Jaipur.
In her speech, Smt. Smriti Irani complimented the efforts of the Rajasthan Government to create a hub in the state and spoke about the employment of 45 million directly and another 20 million indirect jobs in the textile sector which is the second-largest workforce in the industry. It seems there are ample opportunities to complement the vision of Prime Minister's under the umbrella of "Make in India". The Government is providing skill opportunities as well as incentives to give an impetus to the industry. The financial support to the weavers under the "Mudra Yojna" has documented evidence of increase in the incomes of weavers to the tune of 50–60 per cent.
About VASTRA 2017
VASTRA 2017 is a famous event on textiles and apparel presenting a fusion of the finest and the latest in textile products. The event is jointly organized by the Rajasthan State Industrial Development and Investments Corporation Limited and the Federation of Indian Chambers of Commerce & Industry and is supported by the Government of Rajasthan. More than 50 countries and 13 Indian states are participating in VASTRA 2017. This year, Vastra has witnessed participation by over 250 exhibitors from 13 states, around 300 overseas buyers from more than 50 countries and about 200 representatives from around 100 Indian buying houses/agents.
Achievements
• I would like to thank the Prime Minister. Because of his efforts, other nations have become so willing to stand with India and be there for India when the need arises.
• India's relations with nations from around the world have improved significantly. We have closer ties with almost every nation, than what we used to have till a few years ago.
• Today, Indians settled abroad are proud of their country of origin. Their confidence is at an all-time high.
• Indians who are travelling abroad have their trust and confidence that the Indian high commissions, embassies and officials will be there for them in a time or situation of need at the click of a button or a phone call.
• Our government believes in effective diplomacy, efficient delivery. We have proven it.
• We have come a long way in the process of issuing passports.
• Under Trump administration, India-US relations are growing at the same pace as the Obama Administration.
• There has been no change in that. India and the U.S. have a relationship of mutual benefit.
• PM Modi has spoken to President Trump thrice. Our officials have also had talks with theirs on many occasions. Every interaction has been positive and good.
• U.S. is India's major defence partner. And there has been no intimation from their side that might suggest diluting this special relationship we share.
• India has signed the Paris accord because of Indian culture and ethos. India and Indians have had oneness with nature for thousands of years. So for some to say that India has signed the agreement because of being pressured or because of greed for foreign aid in this endeavour is completely baseless and unfortunate. I would like to officially make this clear.
• India has always respected, even worshipped nature. We will be committed to the Paris agreement irrespective of what the United States decides.
• Many said that this government will face a lot of difficulties in keeping good relations with Muslim-majority countries. It is time they see the reality.
• Our relations with countries in Asia are at an all-time high. Saudi Arabia and UAE – countries that were believed to be close to Pakistan, now share a very special and close bond with India.
• Palestine and Israel, which have many disagreements and disputes, look at India as their friend. Recently, the President of Palestine wanted India to mediate talks with Israel.
• Closer home, India has close relations with Afghanistan and Iran.
• India is a responsible and trustworthy nation that will do its best to ensure that the Middle East, South Asia and Asia-Pacific regions are peaceful and flourish in trade.